If your child becomes sick or injured or you have concerns, please call our office to schedule an appointment.  If you have additional questions, our staff can assist you or have a  nurse return your call.
*Please be advised that this information is made available to help our patients learn more about their child's health.  This does not replace the advice of a doctor.  If you have questions or concerns please call our office.
If there is a life-threatening emergency please call 911 immediately.
If you have an urgent concern and would like to speak with a physician please call our office. During office hours, our staff is trained to triage these calls and can contact your doctor.
If our office is closed, please dial our answering service 703-558-0752, they will page the on-call physician for you. After 10:00 pm Monday thru Thursday your call will be returned by Rainbow Babies Triage Nurses, they are specially trained to answer your questions.  They are also able to reach the on call doctor any time of day or night and will provide guidance over the phone.

When you call, please provide the following information:
If you are out of town, we are happy to take your calls and provide recommendations on seeking appropriate medical care.
When calling our On-Call After Hours Service, please be aware that the doctor may return your call using a "blocked" telephone number. In most cases the physician is calling you from their personal home or cell number and for privacy reasons they have blocked it. So if you have called our on-call after hours service and you are now waiting for a return call from us, that blocked number calling you could be them, please pick up.
***Please be advised that there is a fee charged to your child's account for all after-hour calls to the physician.
Antibiotics only treat bacterial infections. Taking antibiotics when you have a virus can do more harm than good: you will still feel sick and the antibiotic could give you a skin rash, diarrhea, a yeast infection, or worse. Like all drugs, antibiotics can be harmful and should only be used when necessary.
Antibiotics also give bacteria a chance to become more resistant to them. This can make future infections harder to treat. It means that antibiotics might not work when you really do need them.  It is important that you only use an antibiotic when it is necessary to treat your illness.
When you have a cough, sore throat, or other illness, your doctor will only prescribe an antibiotic if it is really necessary. If you are not prescribed an antibiotic, ask what you can do to feel better and get relief from your symptoms.
We are dedicated to prescribing antibiotics only when they are needed, and we will avoid giving you antibiotics when they might do more harm than good.
If you have any questions, please feel free to ask us.
When to call your pediatrician if your child has a fever
Please note that the following are guidelines only.  Your child's general appearance and the way he or she is acting are usually more important indicators of illness than the height of the fever.  You should always call if your child looks or acts significantly ill for any period of time or if you are concerned about worsening health.
Call Immediately if:
Your child looks or acts very ill for any period of time.
You think your child has had a seizure
Your child is less than three months old and has a temperature of 100.4 F
Your child is over three months and less than three years old and the fever is over 102 F and he or she is not acting well
Your child is over three years old, feverish and does not look well, and does not perk up significantly after an appropriate dose of fever medicine.
Your child is crying inconsolably.
Your child cries if you touch or move him.
Your child is difficult to awaken.
Your child complains of a stiff neck and cannot touch the chin to the chest without pain.
Purple spots are present on the skin and these do not blanch (whiten) when pressed firmly.
Breathing is labored and not better after the nasal passages are cleared.
Your child is unable to swallow anything and is drooling saliva.
Your baby's fontanelle (soft spot) is bulging when he or she is sitting up quietly.
There is redness or swelling around the eye or pain with eye movements.
There is redness, tenderness, or swelling over an arm or leg.
Your child walks with a limp or re fuses to move a leg joint.
Your child has a compromised immune system (e.g. the spleen has been removed, the child is undergoing chemotherapy, or is HIV positive) or sickle cell anemia.
You have any other concerns about the fever that make you feel immediate care is necessary
Call within 24 hours
Your child suffers from a burning sensation or pain during urination.
Your child complains of ear pain.
Your child complains of sore throat and any of the following: swollen glands, headache, abdominal pain, rash or joint pain.
Your child voids dark urine3 or 4 weeks after a sore throat.
Your child's fever lasts more than 48 hours without any obvious cause or infection.
Call during regular office hours if:
Your child's fever is greater than 101.5 F for more than 72 hours.
The fever has been normal for 24 hours and then returned.
The child has a history of seizures with fever and wish to review fever management.
You have other concerns or questions regarding fever.

When can my child return to school/ daycare?
* These are guidelines only and individual schools and institutions may have different restrictions.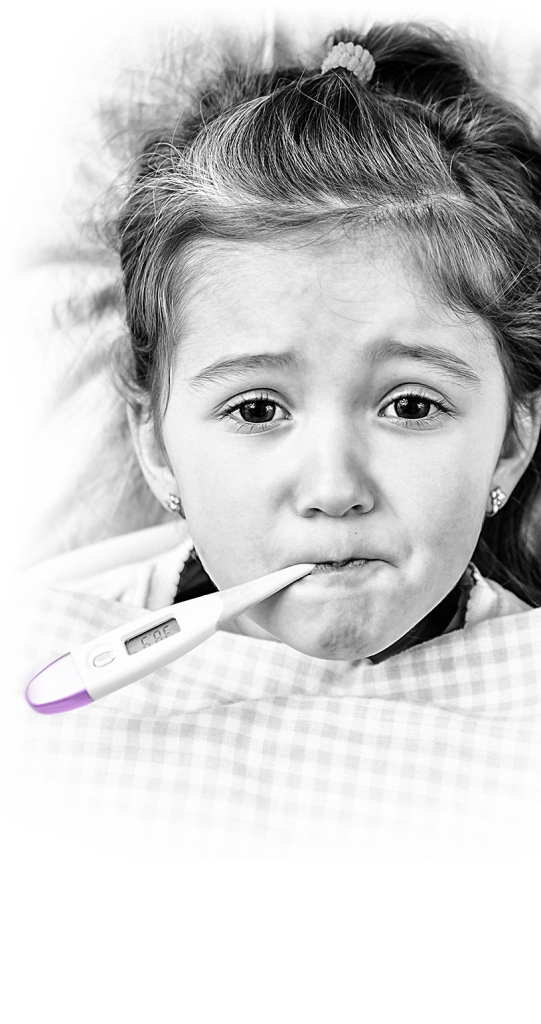 5275 Lee Highway
Suite 200
Arlington, Virginia 22207
Office Hours:
Monday 8:00 am to 6:00 pm
Tuesday 8:00 am to 6:00 pm
Wednesday 7:30 am to 5:00 pm
Thursday 8:00 am to 5:00 pm
Friday 8:00 am to 5:00 pm
Saturday 8:30 am to 12:30 pm
Walk-ins: Monday-Friday, 8-9AM. NOT Saturday!